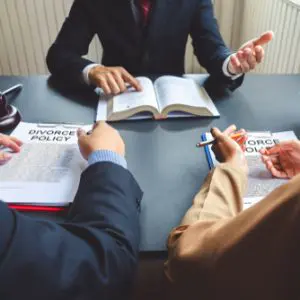 You may think that sharing a divorce lawyer with your ex will save you both money and simplify and expedite the process. A nice thought, in theory, especially if you are both looking forward to a speedy divorce and believe you can put your differences aside for the sake of the kids. There are plenty of reasons, however, that you can't use the same Michigan divorce lawyer.
1. It's unethical to share a divorce attorney.
Michigan divorce attorneys are prohibited from representing two clients who have conflicting interests. You are, quite clearly, opposing parties in a divorce lawsuit, so how can the same divorce lawyer adequately advocate for both of you?
A divorce lawyer is your legal wunderkind, your support system, your advisor. They are on your side and negotiate for you – that's not a relationship you want to share, even if you could.
2. You and your ex aren't as amicable as you might think.
If your choice to split up is mutual and you and your ex are on good terms, don't be swayed by a momentary peace. That ability to get along during divorce that you brag about is often too good to be true. When it's time to talk about assets and kids, you'll argue.
When your opinion differs from your ex's, your lawyer can't be in both your corners. You want to make sure you get the house or the dog. You want full custody of your kids or you want a more generous allotment of parenting time. Whatever the issue on the table, you and your soon-to-be ex will have disagreements, and you want a lawyer who knows what's in your best interest and fights to reach your goals, not your ex's.
If you truly believe you can get through you divorce without conflict, mediation is always an option, or the collaborative law process. However, both situations can go up in flames, which will lead to you needing to hire your own divorce lawyer anyway. When you meet with Michigan divorce attorneys for your no-cost consultation, ask questions about how your divorce can happen and whether mediation is right for you.
3. Your divorce will be costly no matter what.
In one last effort to work together and save money together, some divorcing couples take the risk of hiring one divorce attorney to represent only one of them. The ex without their own legal representation agrees to the divorce judgment that is drawn up. Potentially, you could blindly sign away assets and rights and find out too late that everything you agreed to was not in your best interest. At that point, it's nearly impossible to undo what has been done.
You may think you're winning and outsmarting the system by not hiring a divorce lawyer, but you could find yourself responsible for paying a bigger share of marital debt, getting screwed come tax season, or having far less time with your children than you deserve.
Choose Your Macomb County Divorce Lawyer
When you are in the process of hiring a Macomb County divorce lawyer, it's important know the qualities to look for in a Michigan divorce lawyer. Schedule your consultation with Michigan Divorce Help PLLC in Mount Clemens. Get the no-cost advice you need to get your divorce started the right way. Contact us today.